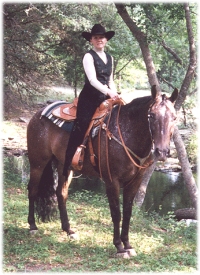 Dream is a 1986 bay roan gelding registered with the Appaloosa Horse Club (ApHC) as "A Dream Come True". I purchased Dream from a family friend while I was in college in hopes of having an all around prospect. Dream has more than lived up to my expectations!
Dream was bred in West Virginia by Dr. John Godfrey. His sire was Baby Bar Patch. His "Appaloosa Roots" include two ApHC Hall of Fame members. He is a great-grandson of Apache and a great-great-grandson of Patchy. The thoroughbred Three Bars can also be found in this side of Dream's pedigree.
Dream's dam was a Quarter Horse mare, Franza Bar, a double great granddaughter of the thoroughbred Three Bars. One of his distant relatives even won the Belmont Stakes !!! (Luke McLuke in 1914).
Dream began his show career in Maryland at small, local shows. I began showing Dream in the larger, ApHC regional shows in 1989. Within a few years, we were showing up and down the east coast.
In 1995, our jobs took us to Texas. Dream came along of course. I started showing in Texas the spring of 1996. I took the second half of that show season off so Dream and I could adjust to being Texans!
In October of 1996, Dream and I started "serious" trail-riding with the Cowboy Capital Trail Riders, from Bandera, Texas. I met a lot of really nice people and look forward to going on other trail rides with this group in the future. I was really proud of how my "little show-pony" handled all the new experiences on the real trails. In November 1996, we went on the Cowboy Capitol Toys For Kids benefit ride. On this ride, Dream actually crossed running water for the first time! I was so proud! He didn't even hesitate to walk right into the stream.
Now, in 2000, Dream has finished a great achievement - he earned his ApHC Supreme Champion Horse award! I'm so proud of my baby!
Stay tuned here as Dream and I continue showing and other adventures!