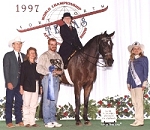 Dream at the 1997 World Championship Appaloosa Horse Show, with his trainers, my husband, and Miss Appaloosa America
---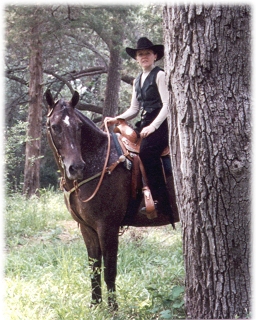 DREAM's INFO
Registered Name: A Dream Come True
Age: 20 years
Breed: Appaloosa
Color: Bay Roan
Born: 1986 in Hurricane, West Virginia
Sire: Baby Bar Patch
Dam: Franza Bar (AQHA)
Breeder: Dr. John S. Godfrey, DVM
Dream is always willing to try new things. I try to introduce him to some new class every year or so.
2000
We started doing games classes this year. We ran Figure 8 Stakes and Keyhole, and Dream found that he got to RUN in these classes! He turned out to be really good at Keyhole, and he earned his ROM in three shows! We finished the year 3rd in the Nation in Open Keyhole!
1998
This time, it was Ladies' Side Saddle. We rode in our first show in a borrowed saddle and skirt. We placed last, of course, but after that he progressed quickly and was soon winning classes. He earned his ROM in less than a year.
1997
We decided to start driving this year. I took him to a trainer near us, and he wasn't sure how such an "old" horse (Dream was 11 at the time) would take to it. Well, he was sure surprised when Dream pciked it up like he had been driving forever! We went into our first show soon after, and placed first under all four judges!